Simworx are pleased to announce its latest product innovation, which has transformed it's 4DVR Theatre attraction, creating a fully interactive experience.
Featuring a 3DOF motion system, the 4DVR Theatre is now available with a new optional joystick element which converts the experience from a passive one to interactive. This new feature allows guests to complete interactive tasks and compete against fellow participants. Whether it's an astronaut's anti-gravity mission   collecting points in outer space or a jungle safari exploring the amazon, riders are placed right at the heart of the action battling for the high score.
The Interactive 4DVR Seats utilise new Oculus Rift-S VR headsets and robust, arcade-style joystick element with buttons to allow users to control their movement. With additional features of this exciting new product including, the opportunity to add both pre-show and post show elements, a library of VR films or bespoke film and game content services, capacities of 2 to 1,000 seats as well as optional integrated water spritz, air blast and leg tickler effects.
The small-scale attraction is particularly suited to FECs, LBEs, Science Centres, Museums and smaller venues, offering complete scalability to fit into any creative concept or location. The Interactive 4DVR Theatre appeals to all ages and with it being an indoor, all-weather attraction it is an excellent choice for operators worldwide.  Full turnkey solutions are available.
Simworx has recently completed the second installation of the Interactive 4DVR Theatre, with both of these operating within National Geographic Ultimate Explorer FECs.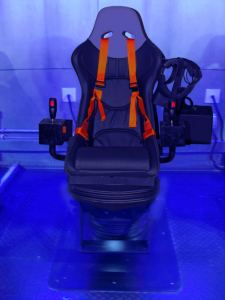 •  3DOF seat Motion System
•  Robust, arcade style joystick element with buttons
•  Pre-show/post-show
•  Library of VR films or bespoke film content services
•  Individual single rider seats
•  Oculus Rift-S VR headsets
•  Integrated water spritz, air blast and leg tickler effects
•  Full turnkey solutions
Back