Dynamic media-based attractions developer Simworx has teamed up with, themed entertainment designers, Katapult to design a high-octane ride concept for Simworx's AGV (Automated Guided Vehicle) Dark Ride – named Overdrive: Ultimate Heist. 
Publicly launched during this year's IAAPA Expo Europe in London. Simworx showcased on at their stand a vinyl wrapped, to look like a Police Car, AGV Dark Ride – to promote the concept. Attendees were given the opportunity to see the ride vehicle up-close and in-person, demonstrating how it could look if integrated into a ride with this concept.
Overdrive showcases the unparalleled capabilities only possible with a dynamic trackless ride system. The concept provides an example of the limits to which dark rides can be pushed in 2022, delivering an adrenaline-fuelled chase around the metropolis as riders role-play as EITHER cops or robbers.
The storyline, crafted by Katapult around the AGV, leverages the innovative Automated Guidance Vehicle's USPs as well as incredible interactive effects to create a duelling theme park experience like no other.
"Katapult looked at all the unique elements that really made the AGV special and worked that into the concept. We wanted to highlight the unpredictable motion of a trackless ride and how it could work in a duelling format where riders are pitted against one another as they experience multiple ride experiences and endings." said Simworx CEO, Terry Monkton
"With the AGV being the fastest trackless dark ride within the themed entertainment market, acceleration was a key component to integrate and focus on when imagining the kind of story we wanted to tell." adds Simworx Lead Designer, Matt Clarkson.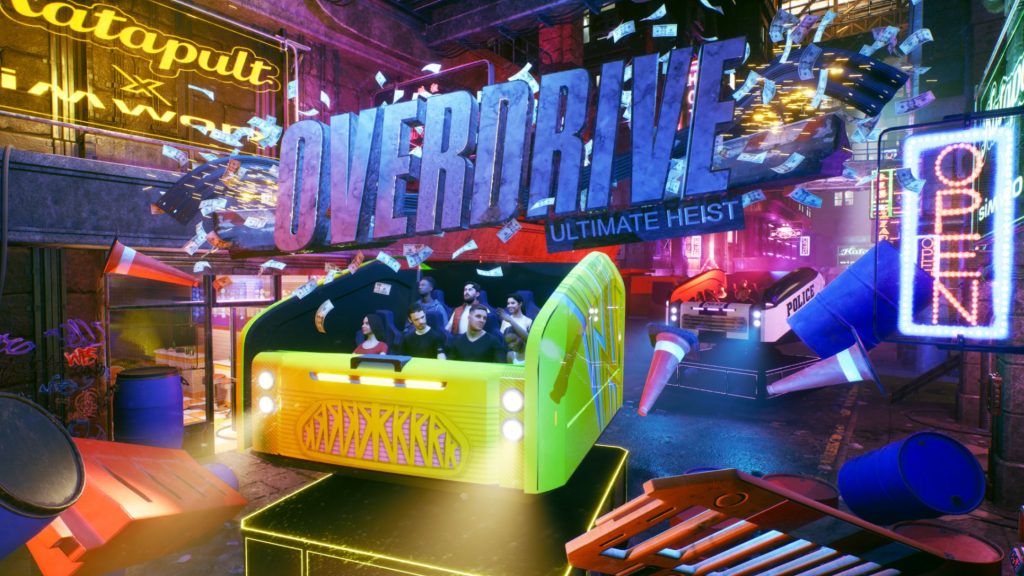 RIDE FEATURES
Overdrive is designed to fit into a large sprawling footprint, made up of 10 scenes, with the last 2 interchangeable to suit the result of the chase. In a layout utilising 10 AGV vehicles, the throughput boasts 1100 riders per hour.
The trackless system being the focal point allows for unique movement around show spaces so the ride vehicles can chase and duel one another in a variety of locations whilst avoiding hazards and other obstacles in the ride. The ability for the vehicles to race into a dead end and then reverse back out at high speed is just one of the highlight details that makes this attraction so unique.
The highly stylized experience brings high-intensity driving games and movies to life. Drawing inspiration from popular driving franchises like 'Need for Speed', 'Grand Theft Auto' to create an IP free concept that still follows the fan-favourite narrative of these kinds of stories but with its own twist.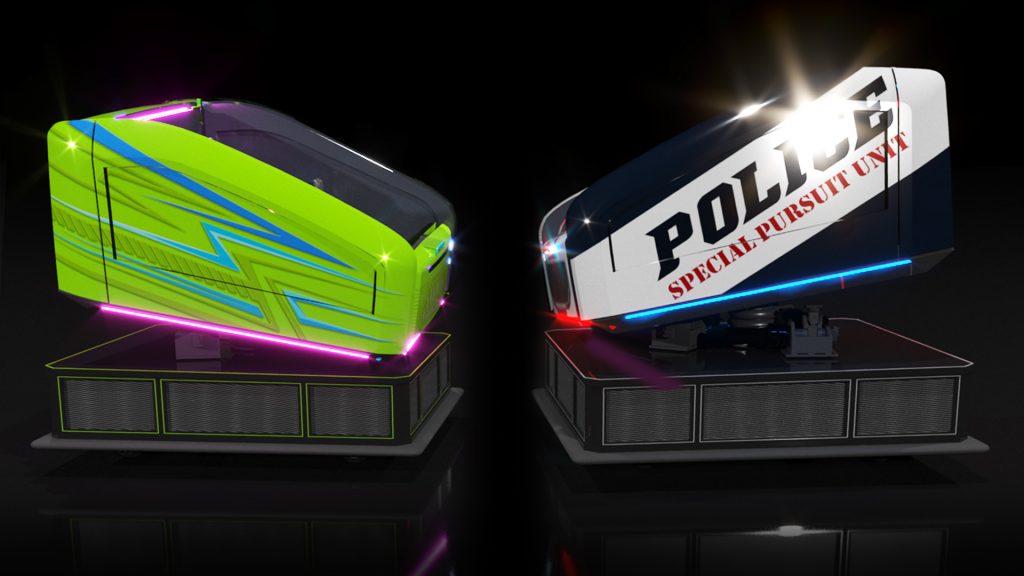 SCALABILITY
Overdrive offers considerable scalability for parks. For parks with greater throughput requirements, the ride can be scaled up to include more scenes and more vehicles, while for smaller parks it can be reduced.
In situations where it's not possible to use the AGV system, the ride concept could also be applied to a range of other Simworx products such as their versatile Stargazers or Cobra motion simulators. The experience instead split across two rooms, each taking on their individual roles at Cops or Robbers in an interactive pursuit, retaining the aspect of alternative endings and re-rideability.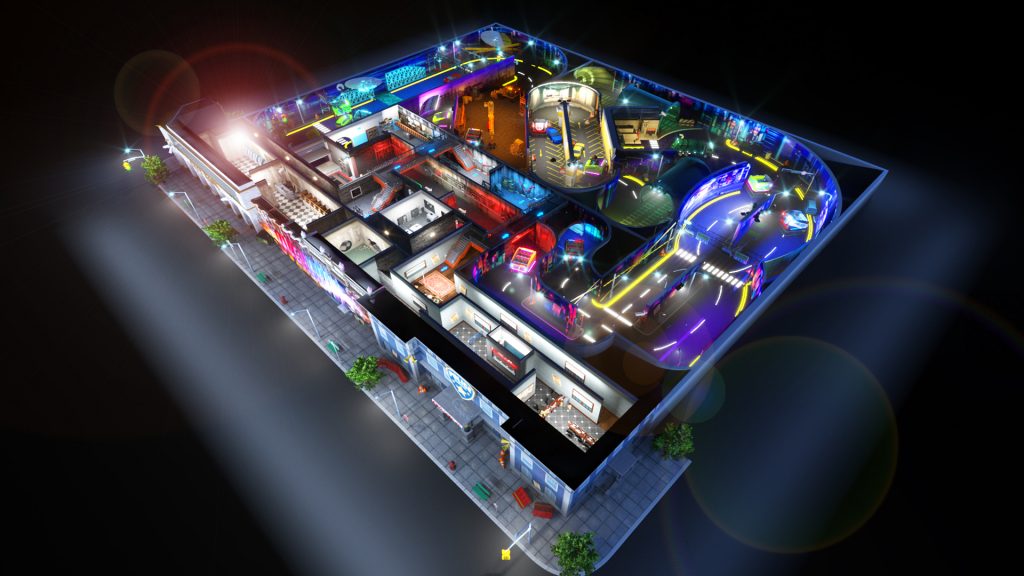 STORYLINE
Guests are pitted against one another from the get-go as they queue and board their ride vehicles segregated into cops and robbers. Inside the bank, they are briefed on their chosen mission before bursting out onto the streets.
Riders navigate a series of scenes from the backstreets of the Metropolis to underground tunnels, parking garages and construction sites. The AGVs interacting with the media as each vehicle follows its own path dodging and weaving between the other vehicle and theming.
In an epic finale when the race spills out onto the city's busy highway culminating in a final death-defying pursuit across the city's suspension bridge. . The climactic scene ends with both cars crashing into their respective unload scenes.
Previous Simworx/ Katapult collaborations
Simworx and Katapult have previously worked together before to develop a horror dark ride concept centred around the AGV called Torchlight. The premise, that riders are transported to a mysterious woodland where visitors are tasked with discovering the truth about several peculiar disappearances.
Both concepts were centred around enhancing the abilities of the AGV with the latest Overdrive concept appealing to a broader age range for a more family-centric audience.
"We spotted a gap in the market for a ride concept including police chases and getaway cars, tapping into the wealth of popular movie and gaming franchises. The ride system's trackless feature, high acceleration and duelling capability will launch guests into a storyline with multiple endings – enthralling guests of all ages and enticing them back for another spin around the city." Says Phil Higgins, co-founder and CCO.
Back