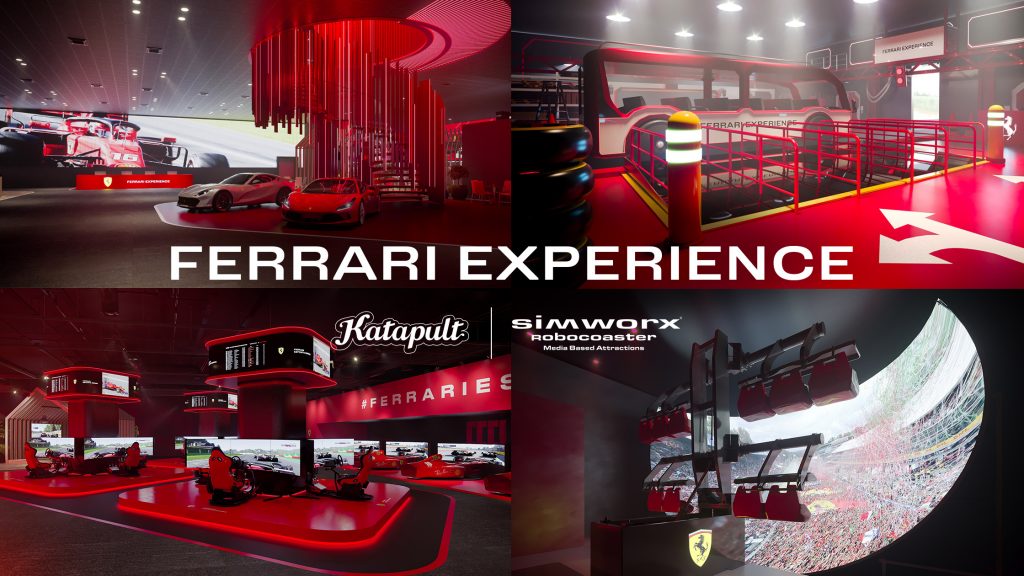 International themed attraction designers, Katapult and Simworx, a leading manufacturer of media-based attractions launched the Ferrari Experience media-based midway attraction concept at IAAPA in Orlando this week. The Ferrari concept is a media-based attraction, featuring immersive simulator rides, an esports adrenalin hub and exclusive themed dining experiences for all the family to enjoy.
Speaking at the launch, Ferrari's Annabel Rochfort, Director of Location Based Entertainment & Esports said, "The Ferrari Experience concept will allow us to connect with our global fans like never before. We know consumer demand for a Ferrari midsize concept is high, and we are delighted to bring this exciting opportunity to the market to provide guests with the true Ferrari experience."
Phil Higgins, Co-Founder and Chief Creative Officer at Katapult said, "We are excited to partner with Ferrari to develop a truly unique midway attraction concept. We have worked extensively to distill the brand's tradition, innovation, passion and luxury, to create an authentic and scalable experience for Ferrari fans around the world to enjoy."
Plans are also in place for the Ferrari Experience to feature a frictionless, connected experience using state of the art guest experience technology. Ferrari and Katapult have also worked alongside Simworx, one of the world's leaders in the supply of Immersive Dynamic Simulation Attractions and Dark Rides.
Bookings are now being taken for interested parties to take an exclusive virtual reality tour of the Ferrari Experience concept. Contact phil@katapult.co.uk for more information.
Back