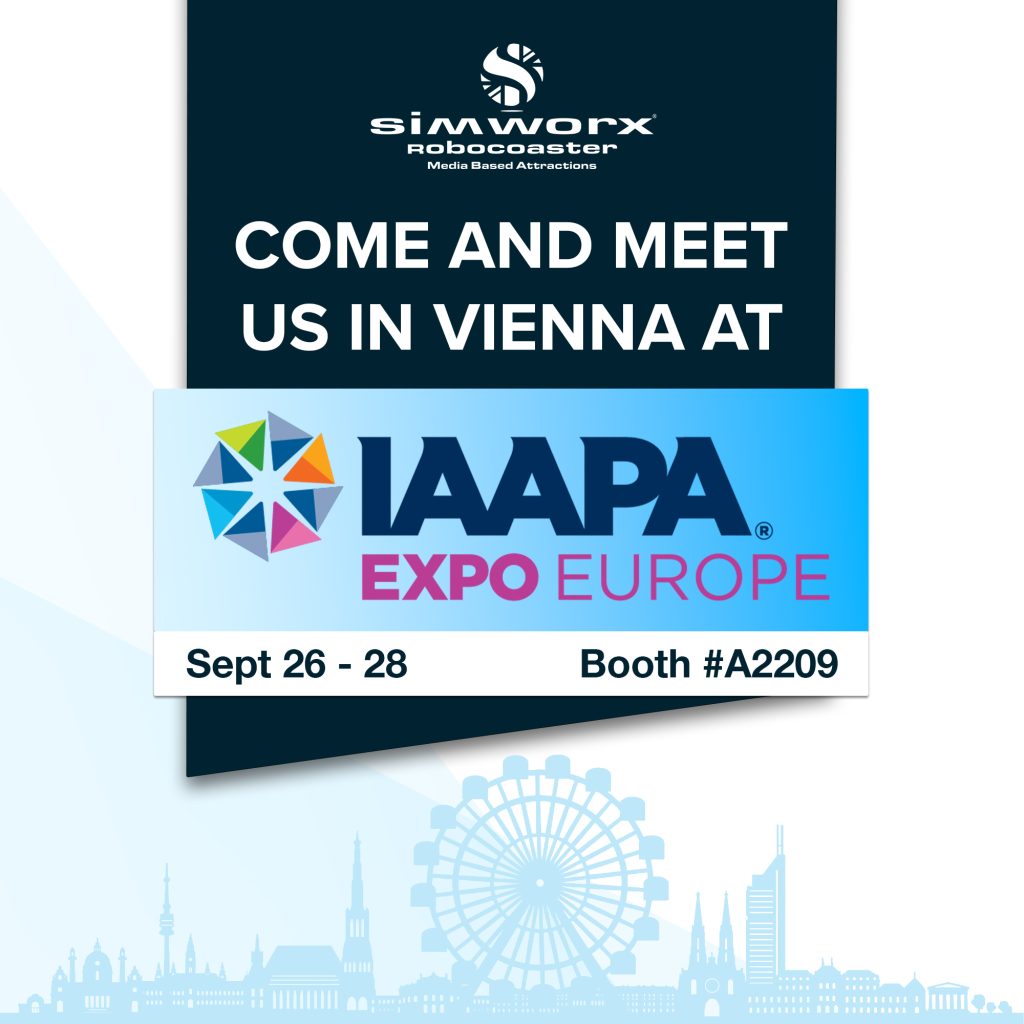 SIMWORX ARE gearing up for the next IAAPA Expo of the year IN VIENNA
This year in Vienna, the premiere event for the leisure industry is not one to be missed.
Simworx will be exhibiting at the show from the 26th to the 28th of September at Booth #2209 with our friendly sales team. 
Focusing on the expansive stories which can be told with their attractions, Simworx is promoting a couple of turnkey ride concepts that highlight the unique capabilities of their rides. Zombie Metro Mayhem being their latest, promoting the unique storytelling capabilities of their Metro Mover Attraction, it takes guests on a high-suspense metro journey as they attempt to escape an apocalyptic city overrun by zombies.
Alongside this they will be continuing to promote the Overdrive AGV concept which they first debuted at last years Expo. The high-octane chase experience concept created in collaboration with Katapult delivers an adrenaline fuelled chase around the metropolis as riders role-play as EITHER cops or robbers that leverages the capabilities of the AGV.
Continuing to accommodate the varied range of their customers Simworx is looking forward to opening the first example of their Pegasus Flying Theatre in Europe in November this year and will be showcasing its unique ability to offer a thrilling solution for guest immersion, in a scalable and affordable way. "We've been busy identifying new potential in our product range and working on solutions and story concepts to suit every client. Our Pegasus Flying Theatre has been a big hit since its launch at IAAPA last year with orders secured and interest from a wide range of customers, so we will continue to increase awareness of it again during this year's show. Our team are eager to re-connect with our customers, suppliers, industry peers and media and theme park design partners during the show and hopefully gain some new prospective clients" said Ralf Schipper, Business Development Director of Simworx.
If you plan on attending and would like to learn more about our products or are looking for a media-based attraction supplier for your next project then be sure to swing by for a chat. You can also schedule some time with a member of our team to guarantee a slot with us in your itinerary.
In attendance will be Terry Monkton (CEO), Andy Roberts (COO), Ralf Schipper (Business Development Director), Rafael Smith (Sales Agent), Matt Clarkson (Lead Creative), Nicole Sangster (Digital Content Producer) and Claire Monkton (Sales and Marketing Co-ordinator)
Also catch insights from the Creative team at Simworx as they talk about the Scalability of Attractions on the Innovation Stage, Tuesday 26th September 3PM at IAAPA Expo Europe.
To arrange a meeting with us please get in touch at sales@simworx.co.uk or via the link below.
Back